Hi there! Coach JR here with another coaching video and free trade idea for you.
Well, today, I have two stocks I think you should pay attention to — and a game plan to play each.
First one is everyone's favorite stock trading app, Robinhood. It looks like one of the many tech stocks catching a break and preparing for a bullish leg.
I think we could take home a modest 35% on the upside.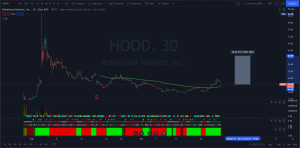 QuantumScape Corporation (QS), a lithium battery company. Given the future of electric vehicles, lithium could be a hot sector. But of course, there's more to picking a stock than that — and I'll explain in the video.
Finally, we have big data analytics company Palantir.
Now, I don't have enough room on this page to explain all the details in writing... 
So I created a video highlighting why I think each stock is set to move and my game plan for trading each one.
Watch today's video to learn how I'll play these stocks…
Then click here for more analysis and ideas like these ones!