Hey there! Coach JR here with another free trade idea.
And yes, you heard me right: Covid's days are numbered.
Science is as science does — alongside the vaccines, Merck has introduced another weapon in the fight against the virus:
A new anti-covid pill that's showing great promise.
Just run a quick Google search and it's everywhere.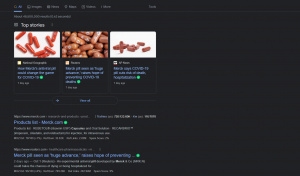 This is a huge move forward. According to the Associated Press, Merck claimed this pill cut hospitalizations and deaths in half during its clinical trials.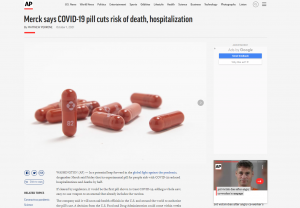 Now, this pill still isn't as effective as the existing monoclonal antibodies procedures. According to National Geographic, the monoclonal antibodies reduce hospitalizations and deaths by up to 85%.
However, monoclonal antibodies and the other treatment, remdesivir, must be administered via IV. That's inconvenient at best and uses up hospital beds/affects the less well-off at worst.
A pill, even if slightly less effective, would be a huge blessing for healthcare systems — especially if those with mild to moderate cases use the pill.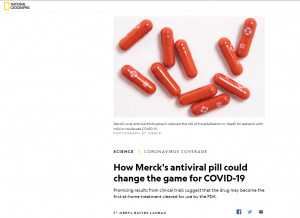 As the Associated Press says further down in the article pictured earlier:
"All other COVID-19 treatments now authorized in the U.S. require an IV or injection. A pill taken at home, by contrast, would ease pressure on hospitals and could also help curb outbreaks in poorer and more remote corners of the world that don't have access to the more expensive infusion therapies."
Now, this is great news for squashing Covid for good and returning things to normal… but of course, you could potentially make some money here.
That's why I wanted to give you this free Merck trade idea.
Watch the video to get the full details…
Then click here to learn how I find opportunities like these!