As I always say:
While others chase meme stocks, cryptocurrencies, and so on…
I'm out here looking for real opportunities based on real factors — mainly disruptions.
That's why no one saw these triple-digit gains coming…
On Macy's, of all stocks.
And not just once, but twice.
Now, one outlet I pay attention to is Morning Brew. They summarize lots of business news in short, punchy emails every morning.
Anyways, a recent Morning Brew detailed how Amazon is going after a critical piece of Macy's business: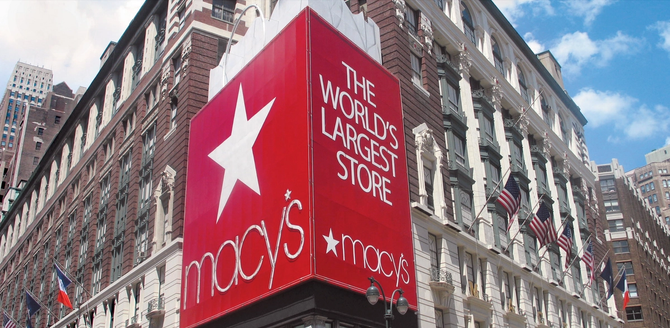 The famous NYC billboard outside its flagship store.
Amazon wants that billboard space...
And I think I know why. Per Morning Brew:
"The chain crushed Q2 earnings and reported that digital customers accounted for 41% of its 5 million new shoppers last quarter."
Of course, Macy's sued the company that owns the billboard space to stop this from happening, claiming the lease basically barred that company from leasing to anyone else.
(Fun fact: they signed that lease in 1963… a few months before Bezos was even born… and years before the Internet's precursor (ARPANET) even existed!
As much as I enjoy the Morning Brew… I knew to ignore this news.
As I've explained before, I spotted someone building a massive options position on Macy's ahead of earnings…
Maybe they were a giant institution with brainiac analysts that are bullish on Macy's. Maybe they thought earnings would be strong.
That wasn't what mattered to me, though — I just cared about the big trade this person was setting up.
And what do you know…
Macy's stock jumped overnight, giving us 150% gains in 24 hours!
Some of my members were able to take home those gains right away.
But things didn't stop there. I saw more potential on this stock, so we repositioned ourselves for more potential gains.
The stock was up almost 41% in 41 days…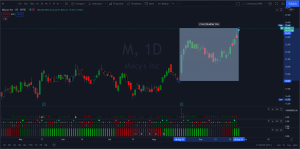 This ultimately put our original position up about 200%. But since Macy's had gone up and down, we had the opportunity to reload our position and profit twice.
This is what happens when you filter out most of the news and pay attention to the hidden disruptions bubbling just below the market's surface.
Now, if you want to learn how I do this...