"The world is ending!"
"The sky is falling!"
"The market's gonna crash!"
Tune into financial media, and that's what you'll hear. They bring on plenty of experts to back up their statements, too. Especially ones that you'd typically expect to disagree. Helps them prove their point.
For instance, here's an article I read: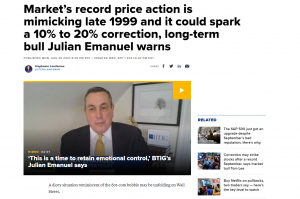 That's a fear favorite for the media to call back to. The Dotcom bubble. Yet these experts can't seem to understand we aren't in 1999-2001. We're in 2021 — a new age.
I'm bullish on the US markets long-term. I think we're set to smash records through the next couple decades.
Don't believe me? I've got my own experts to back me up. Just take a look at Cathie Wood of Ark Invest. 
She's bullish on US stocks for one simple reason (and the same reason I am):
Millennials.
Back in the day, the Baby Boomers had a massive influence in the markets. They grew into their careers, started families, and invested their earnings for the future.
Now, those children they had — many of them millennials — are stepping into those same life stages.
They're moving up in their careers and earning more. They're starting businesses. They're innovating. They're playing huge roles in the very companies that make up the US stock market. And they're putting their income to work in that market.
"I lived through the baby boom years, and that equity market move was magnificent," She said in an interview. "It was a very simple assumption, and it worked. And I do feel we are in the same place now."
For that reason, Cathie and I are both bullish. She's killing it with Ark Invest, too, with millennial favorites like Tesla, Roku, Robinhood, and Square. I mean, some of these companies are heavily run by millennials themselves!
With all this said…
There will be short-term dips. Maybe even flash crashes. But these create AMAZING opportunities if you're a long-term bull like myself and know where to look.
My eyes are wide open to the profit potential that's coming down the pipeline...