Everyone's excited about cryptocurrencies (especially Bitcoin), but I bet you haven't heard much over the last few years about crypto miners…
Hey, even Cramer showed up late for the party. Only now is he talking about these types of stocks.
Meanwhile, some of us traders are quietly making a killing on publicly traded crypto companies.
Let me introduce you to one that's up almost 5x as much as Bitcoin over the last 52 weeks...
Marathon Digital Holdings Inc, or MARA.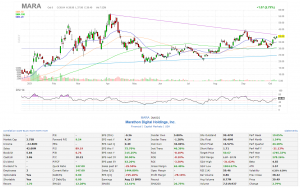 Now, when an asset class is born, retailers can make a difference in its price. 
However, if you want the party to keep going once said asset class grows in popularity, then you need what I call transformational money... 
AKA Institutional Players.
They tend to help reduce volatility and keep the lights on for a lot more time.
There's one name you need to know which I think justifies this sympathy play... 
So far, that name built a 322+% ownership in MARA, giving its blessing to the entire crypto miner space: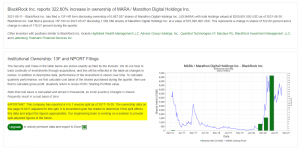 Some more context about Blackrock to show why this is big news: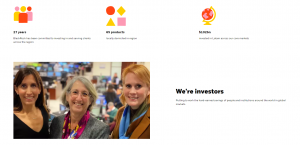 And here's a fun fact from Morning Brew about Blackrock that puts things into perspective:
"With an estimated $10 trillion in assets under management, the investment giant BlackRock is as big as the global hedge fund, private equity, and venture capital industries combined."
Do you think this mammoth would throw this much of their weight into MARA just to trash their clients' money? I think not.
I think they know something about MARA's potential performance.
Additionally, MARA recently updated investors regarding its mining activities and holdings. It looks like it's mining Bitcoin at a breakneck pace and has hundreds of millions of $$$ in the crypto.
The company also released a slide deck with more financial info — but without getting into the details, the slide deck basically shows that the company is quite profitable.
Now, Mara's already exploded over the past year or so… but it's still a buy with the potential to deliver over 100% gains in the next 12 months.
So yeah, I might have missed Bitcoin back in the early 2010s when it was cheap, but I strongly believe Bitcoin will touch $90k or more soon…
And carry stocks like MARA with it.
​​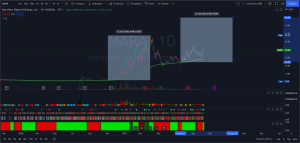 MARA isn't the only crypto miner, of course. It's our conservative sympathy play.
Using my core Statistical Disruptive Flow (SDF) methodology, I found another sympathy play that could potentially explode 623+% as Bitcoin builds energy to potentially reach new heights.
If everything lines up right... 
You could create $10,800 of pure profit for every $1,000 you invest in this position — and you don't even have to directly hold Bitcoin!
This is great news because you need around $50,000 to buy 1 Bitcoin, and then you have to take a bunch of steps to protect your virtual assets:
Choose hardware wallets

Keep your private key offline

Never give away your private key

Always use a secure internet connection

Use good and up-to-date antivirus software

Do not access unknown or suspicious links

Use a strong password for your online wallet
By jumping on these sympathy plays instead, you could reap similar explosive potential gains in the far more established stock market. No need to worry about all that security stuff.
Sounds like a great deal, doesn't it?
If you agree...
Watch this video to learn the system I use to find these explosive yet hidden sympathy plays.