Hi there! Coach JR here with another coaching video.
As you know, green energy is quite the trend nowadays. Sure, we still use oil and natural gas, but many governments and companies have prioritized cleaner ways to get energy.
Much of the clean energy discussion is wind and solar… but people aren't talking about nuclear power. 
What makes nuclear such a potent yet clean energy source… and why do I think it could be amazingly profitable?
According to Visual Capitalist, one of my favorite blogs:
"Nuclear power plants use fission to generate electricity without any combustion, avoiding emissions from the process of electricity generation. What's more, on average, it only takes one typical nuclear reactor to generate one GWh of electricity. The power generation capacity of nuclear reactors is largely due to the high energy density of uranium and nuclear fuel.
Uranium could see HUGE demand, per this Visual Capitalist infographic: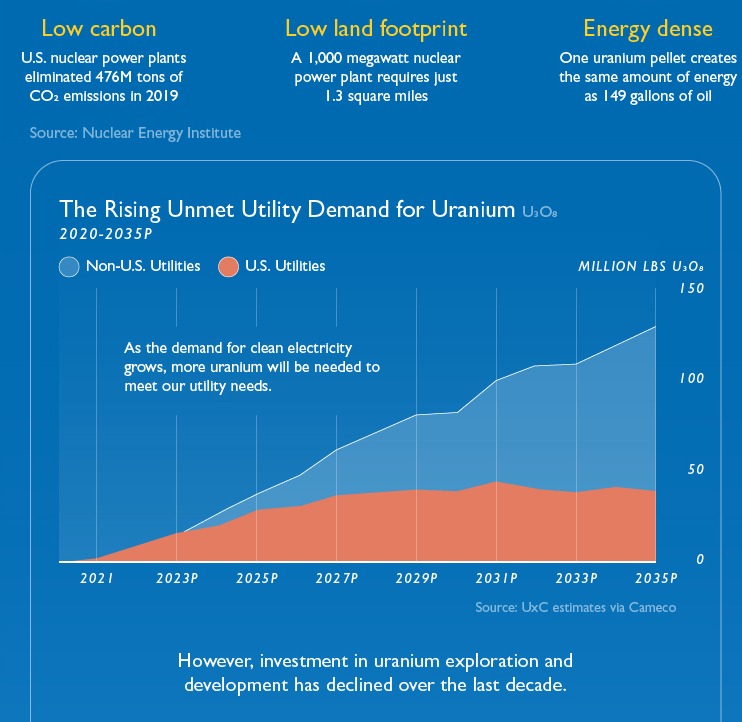 As overall energy demand increases alongside environmental concerns...
In a time when uranium exploration and development has reached a low point…
What do you think could happen in this industry?
The party's just starting — and there will be plenty of profit opportunities here. So now that we've covered a few fundamentals let's break into some technical analysis.
Take a look at Global X Uranium ETF (URA):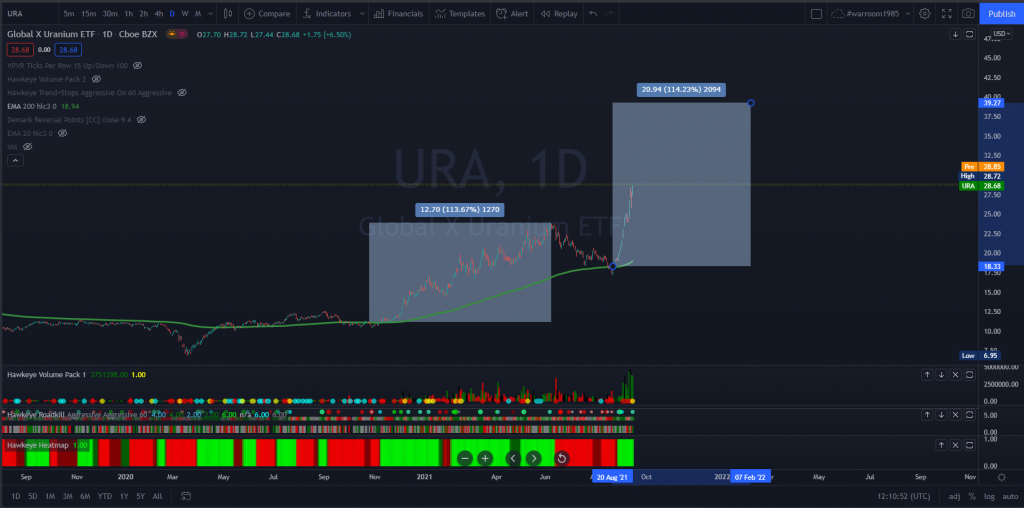 After hitting a bottom during the COVID crash, it climbed slow and steady. Then, it pulled back… but jumped 64% since August 20th of this year after finding some support. That recent run could've earned you $6 for every $1 invested!
But there's still more to squeeze out of this bull market… as you can see from my prediction with that 2nd white box in the above image. 
We'll see some price rotation, just like with Cameco, but you can't let that scare you. Just think longer term.
So how do you play this?
Well, I'm publishing 2 uranium picks in my Under the Radar portfolio within my Profit Flow Group. If you become a member today, you'll be able to jump on this right away.
Watch the video now to hear all of my thoughts on the uranium market…
Then click here to grab the tickers and see my full Under The Radar portfolio!
To your massive success,