Have you heard of Peter Lynch? You should know about him because:
He averaged over 29% annual returns for Fidelity's Magellan Fund from 1977-1990 

He annihilated the S&P's returns for 11 of those 13 years as the fund's manager
His genius allowed him to retire at the ripe old age of 46. 
Of course, managing that fund so well for others earned him a healthy salary... 
But his personal investments are what made him his true fortune.
And today, I want to show you how he'd invest his own money to take MAX advantage of this bull market…
That would be buy buying up small cap stocks. 
Peter Lynch advocated for retail traders to buy and hold (emphasis explained later) financially sound small caps with significant earnings growth… because most of these stocks aren't large enough for the big players to notice them.
After all, small caps generally offer much more upside potential, with limited downside risk compared to larger-cap stocks. 
Here's how Lynch put it in an interview with Fidelity (his former employer):
"In baseball terms, you want to buy in the second or third inning and get out in the seventh or eighth. Walmart was in only 15% of the United States when they were a 10-year-old public company. All they did for the next 30 years was go from 15% to 100%. The stock went up 50-fold. They had a great formula, and they just rolled with it in the United States."
The expectation is that the big guys and the rest of the market do eventually notice some of these small stocks and pile in their capital… leading to a massive potential run.
In short, he put his (or his clients') capital into companies no one cared about...
Which is fairly similar to what I do on many trades.
Now, the key here is to hold these small caps. 
These are longer-term investments, not short-term profit plays. We're in a bull market right now (despite what Morgan Stanley says), but the market will drop every so often.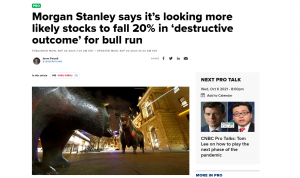 (Ignore Morgan Stanley. Other big firms agree with me.)
You have to be able to stomach those market drops and keep your eye on the long term. After all, that's usually price rotation.
In that interview with Fidelity, Lynch himself said:
"Over the 13 years I ran Magellan the market went down 9 times 10% or more. Every time it went down, the fund went down more. So I just didn't worry about it. The stock market's been the best place to be over the last 10 years, 30 years, 100 years. But if you need the money in 1 or 2 years, you shouldn't be buying stocks. You should think about being in a money market fund."
So with all that said… 
If you're looking to potentially bolster your wealth over the next few years, I've got a relevant ETF for you:
The iShares Russell 2000 ETF (IWM). 
It tracks the Russell 2000 index, which tracks 2,000 US small caps.
I've recorded a meaty video for you, packed with information on taking advantage of small caps in this bull market.
Watch my video now…