Bitcoin quietly touched $50k again this morning and now hovers just barely under that significant point.
But I don't think it'll stop here. Based on my analysis, I'm targeting $88k-$90k by the end of the year…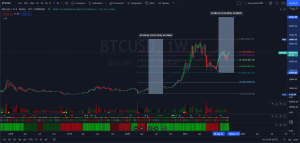 And that's only a couple months away.
But maybe you don't want to hold crypto directly. Or maybe you never held it early enough for the absolutely gargantuan upside.
I get that.
That's where sympathy plays — stocks that could benefit from a rise in Bitcoin — come in.
In this case, Hut 8 Mining (HUT) is my sympathy pick. Like MARA and RIOT, this is a crypto miner. It specializes in Bitcoin and Ethereum.
Speaking of MARA and RIOT, both were trading in the $1-2 (and sometimes $3ish) range just 1 year ago.
Faithful investors, however, were rewarded with massive gains.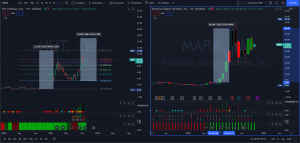 MARA climbed from the $3 range in November 2020 to as high as $56 in February and now stays within the high $20s to low $30s.
Meanwhile, RIOT spiked as high as $77 before settling back down into a similar range.
Imagine if you had put $1,000 into MARA back in November and closed out in February. That could be over $18,000 in your pocket.
Or how about RIOT. Just $1,000 had the potential to turn into somewhere around $25,000!
At the most conservative, though, you could still have turned that $1,000 into $8,000+ on MARA or RIOT.
HUT's seen similar spikes already but to a much smaller degree.
So it's true that you can no longer buy an entire 1 Bitcoin for $100 and turn that into 500x profits...
But if the crypto shoots upwards towards my targets, who knows what kinds of potential gains HUT investors could earn!
Watch the video for the full details on this opportunity…