Watching Powell squirm as he tries to explain away runaway inflation as "transitory" would be entertaining…
If your hard-earned wealth wasn't on the line.
Now, Powell and the rest of the Fed are doing just fine earning a comfy 6-figure+ salary and knowing how to play the markets.
Inflation isn't a big deal to them.
They're a little out of touch...
Just take a look at the latest CPI numbers: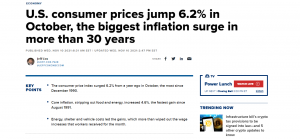 Yes, the Fed blames inflation on the supply chain issues. They say it'll be over when the problems subside.
Even if we agree with them for the sake of argument…
Plenty of experts believe these issues could persist for a long time.
In an interview with Newsweek, Oren Klachkin, Oxford Economics' lead economist, said, "The baseline expectation for improvement is around the middle of 2022. But I think the risks of that happening later are fairly high."
A lot of big business leaders agree: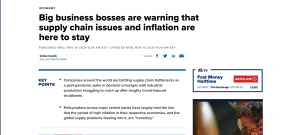 Listen:
If you're following the Fed's words without a huge grain of salt, you're setting yourself up for trouble.
They've said "don't worry about inflation" for months as things have slowly gotten worse.
Why believe them now?
At this point, inflation hedges are shaping up to be your best bet.
Now:
While everyone else followed along with the Fed all year…
My Profit Flow Group community's been playing inflation hedge after inflation hedge across industries to great success.
Shipping, basic materials, US finance...
But one of our best ties directly to the energy crisis (which partly underlies the inflation issue):
Uranium.
Take a look at URA, an ETF that gives us a nice, broad view of the Uranium market: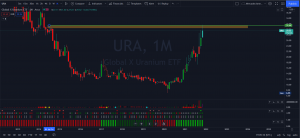 Look at that years-long bearish trend that finally turned around. Based on my technical analysis, things are only just getting started.
The fundamentals back me up, too.
Just look at France. They've been talking nuclear for a while but just announced they're going to build a bunch of nuclear plants.
Easy to see why: as I've explained before, nuclear is super clean and far more efficient than oil or natural gas. Satisfies energy demand and green energy advocates at the same time!
As I said, we've played uranium for months. In 60 days, our 2 positions are up 35.60% and 25%, respectively.
Let's see how that compares to gold, the classic inflation hedge: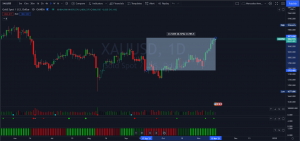 Not bad: 7% with gold vs. 35.60% and 25% with our uranium positions.
Now, I just detected a Statistical Disruptive Flow (the hidden market signal underpinning my entire strategy) on a trade I already have active.
That means someone with a lot of money is betting on the same stock I'm betting on.
That's a good sign that more gains could come.
Want in?
Head here to discover how I find these... and learn about joining PFG to follow all my research and analysis.