"Oh no! Bitcoin crashed 10%! The sky is falling! Crypto's over!"
That's what the headlines said the other day when Bitcoin took a slight fall.
What these people ALWAYS forget is that giant swings like that are totally normal in crypto right now.
While they freak out on these trivial moves…
I'm quite bullish on the space.
Cathie Wood agrees with me: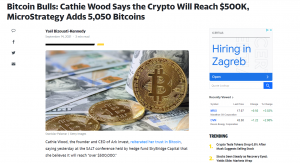 Now, back in October, I gave out the ticker for one of the strongest sympathy plays in the crypto space:
MARA.
You're welcome, by the way…
Because if you bought MARA stock back then, you could have made a 92.50% gain in under 30 days.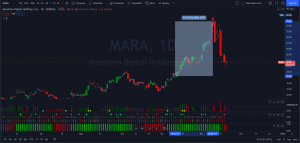 Yeah, that's 92.50% by owning shares. Not playing options.
But the profit train hasn't left yet. I believe MARA still has more to go...
But that's just one great crypto stock.
In today's video, I'm going to show you everything you need to know about Bitcoin...
And I'll reveal another crypto company you should buy if you're bullish on Bitcoin like I am.
Watch the video above for all the details on this new opportunity…
Then check out this special training to learn my trading strategy in detail.