Today, I wanted to share with you two sites I read a lot. These sites inspired me to study a particular company I've leaned heavily on ever since I started a life in Europe back in 2015.
Quick background: 
I tried Spain first. Well, in particular, Barcelona in Catalonia. 
I wanted to live in 4 different areas short-term to learn their ways and culture.
The problem is, no one would rent to me short-term. So I turned to a disruptive tech company to help me out.
Can you guess what that company might be?
Yep: Airbnb (ABNB).
That's the real gig economy play here… but let me show you why ABNB could be way better than other gig economy stocks by introducing you to those two sites I mentioned.
One is called Noah Opinion, run by a guy named Noah Smith, on a platform called Substack. Noah offers fascinating articles on markets, current events, and similar topics…
Like the gig economy.
In his August 22 blog post, he explained the gig economy's fall (or at least decline). Here's an excerpt:
"Gig economy mania faded when it became apparent that the business model didn't make sense for a lot of things — "Uber for X" just didn't work for most values of X. And thus, an industry that was supposed to transform the face of the U.S. labor market ended up doing very little in terms of changing the way people work."
The other blog I'm a fan of is Visual Capitalist. And in a recent post, they covered why Airbnb can thrive and beat hotels when companies like Uber and Lyft run into issues:
"Airbnb's ability to scale its services is reflected by its room count, which is unmatched when compared to the hotel industry.
In 2019, Airbnb had nearly 5 million rooms available, a mammoth of a figure considering the next largest was Marriott at 1.3 million. The company is a giant thorn in the hotel industry's side, and their room count is approximately the size of the five largest hotel chains combined."
Along with this infographic from Business Insider: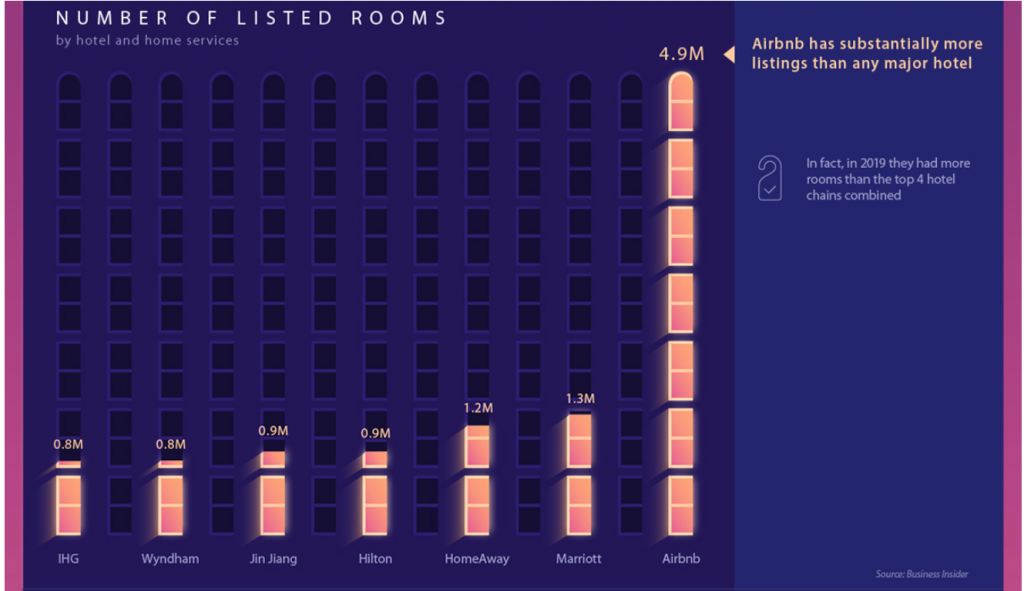 When I saw this back in January 2021, I was sold on Airbnb's long-term potential. To me, it looked much more attractive than Uber and Lyft.
Think about it: Airbnb has massive inventory levels compared to hotels. Their inventory is simply the number of rooms listed. Lots of people like making side money renting out their place, so Airbnb rarely has to worry about inventory. The infographic above shows you that.
Meanwhile, their overhead is far lower than these hotels. Airbnb doesn't have to maintain any of the buildings or units. They don't have to staff the buildings to take care of each guest, either. That's all on the host and/or building owner.
On the other hand, Uber and Lyft need to hire and pay drivers. Those drivers need to work lots of hours and put miles on their vehicles, which is more difficult than Airbnb hosts just renting out an extra room (or even their entire place if they're away from home).
The drivers don't get paid that much, either, all things considered. It's less attractive for the gig workers themselves than Airbnb.
Lastly, drivers in some areas are fighting to be recognized as employees. Some places, like the UK, already ruled that rideshare drivers must be classified as employees and get all the appropriate benefits. That's quite expensive.
So the fundamentals seem to line up well for Airbnb compared to Uber and Lyft.
And here's the thing: I'm bullish on ABNB long-term. We'll be following this stock into 2022 and even 2023 inside my Profit Flow Group. If you want in on this ride…
Head here to get the exact trade setup my PFG members and I are using on ABNB!