Hi there! Coach JR here with another video you don't want to miss.
You see:
About a month ago, when Bitcoin touched $50k again, I predicted it could reach $90k by the end of the year. 
Yet, I think Bitcoin isn't a great investment because you can't viably buy a whole coin anymore… 
Plus, the security headaches of owning crypto.
So I advocate for sympathy plays. I wrote about a good one called Hut 8 Mining (HUT) — a crypto miner specializing in Bitcoin and Ethereum (ETH).
Other miners like RIOT and MARA saw gains in the thousands of % in just a couple months, so I was betting HUT could do the same if Bitcoin hits my target.
Guess what?
Bitcoin's now above $63k as I write this…
And HUT's already up 45% in 27 days.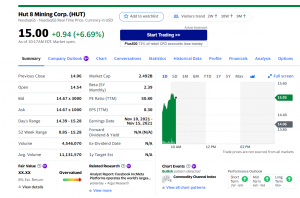 That's not the best part, though.
Heard of price rotation?
It's where large amounts of capital move in and out of certain assets and markets. It's partly why big pullbacks can happen.
However, I also use price rotation to predict future potential price targets as part of my own analysis.
Here's where I see HUT going in the next few months.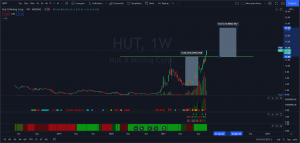 Essentially, I'm predicting capital will rotate in and out of Bitcoin…
And in HUT, since it's a sympathy stock.
Now, HUT's not the only crypto company I'm watching.
Inside the Profit Flow Group, members have access to more of them…
Ready to potentially turn every $1,000 into $5,000 and even more.
Now, if you want to see how I find the most explosive crypto companies on the market...
Learn more about my strategy and the PFG community here.
Remember, you don't have to invest directly in Bitcoin or any other crypto to ride the potential wave.